I l-o-v-e love Anthropologie. Few things there are ever in my price range, but I do my fair share of drooling over the things in their catalog and pining as I browse their wares online. I own one thing that was purchased there: a knitted green bolero with cute, assorted buttons on the shoulders. I often bookmark knitting patterns from knitters more skilled than I who create patterns uncannily similar to the real Anthropologie thing. But over the holiday I was lucky enough to find a piece of clothing for a steal that ended up being in the December 2009 Anthro catalog.
This little number was purchased for 6, count 'em $6, at TJ Maxx:
Compared to the "real" thing, I'd say the $6 was worth it.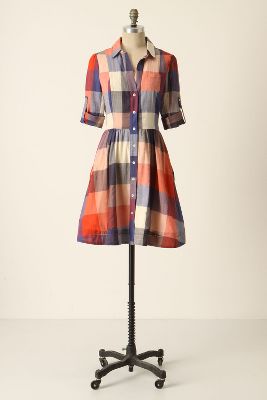 Before I go any further, let me pat myself on the back a little bit more for a coincidence I had no control over. Just a couple more pats. Ah, there we go. All better. Moving on, champ...
We put up our Christmas tree this weekend! It's a fakie. I wish we were into real trees because it seems like such a neat tradition to go out and pick out your tree, but that's just never how I've done things. When it comes down to it, it seems like it could be a big pain the butt. But for those who traditionally pick out their real tree, they'd have it no other way. We all appreciate our trees, whether they're real, fake, free, expensive, or hand me downs. My parents have about five Christmas trees (fakies) in their house (no joke) and I love it. It's Christmas in every room at their place, and I think it's a great way to get as many warm feelings as possible out of the holiday season in your own home.
Other than putting up the tree, we don't really have any other holiday traditions in our family (Zach and me, not my immediate family). We've got our Sunday tradition (CBS Sunday Morning, cinnamon rolls and coffee), but that's about it. Few people say they need to add predictability to their lives, but I wouldn't mind creating some other traditions of my own.